Just like breakfast, your dinner is also an important meal of the day. It's the meal that you eat before retiring to bed. Are you tired of racking your brain or searching the internet for what to eat for dinner? Don't worry; we are here to help you! This guide contains 5 healthy Nigerian dinner ideas you can choose from and add to your diet plan.
However, it will please you to know that we didn't just list them out; we also took the time to write a step-to-step guide on how to cook each meal. However, before we checkout the healthy Nigerian dinner ideas and recipes let's find out what makes a dinner healthy.
How to Make Your Dinner Healthy
The basics of a healthy dinner are actually very simple. Your dinner should be about 500-550 calories and should contain a lot of fiber, protein, and some healthy fat. It is ideal that a healthy dinner should include at least three food groups.
The reason why you should make your dinner healthy is because you will go to sleep after eating it and as such, the dinner has to maintain your body while you are asleep. A healthy dinner will give you a good night of sleep and a make sure you don't wake up to a growling stomach.
Without further hesitation, here are some great Nigerian dinner options for you:
5 Healthy Nigerian Dinner Ideas and Recipes
1. Basmati Rice and Stew with Vegetables
Basmati rice is ano aromatic specie of rice with very little fat content. It's a great dinner for you, especially if you want to eat something light before going to bed. Vegetable is also rich in fiber, carbohydrates and vital minerals, which makes a superb healthy Nigerian meal.
Ingredients:
Basmati rice
Water
Fish and meat
Vegetable
Onion
Locust bean(not compulsory)
Seasoning cube
Bonnet pepper
METHOD
Rinse the raw rice for 3 to 5 times
Pour the rice inside a pot and boil for 20 minutes after adding water and salt
Extract a few pieces of rice to check if it is soft. If it is soft and it still appears watery just sieve it and place again on the cooker until it becomes dry.
Once your rice becomes dry it is ready.
After that, pour the tomato, pepper and onion in a blender and blend
Rinse the vegetable until it is clean and chop it
Steam the fish and meat with seasonings
Pour the tomato, pepper and onion that you blended earlier and let it fry for a little while
Pour the boiled meat as well as its stock into the pot
Pour the fish stock into the pot, add the seasoning and steam for 5 minutes
Place a cover on the pot for 2 to 3 minutes and let it dry for a little while. The aroma should be very massive by now.
Add the chopped vegetable and stir evenly. Cover the pot again for 2 – 3 minutes and add the fish thereafter.
Your vegetable is ready to be served alongside the rice and stew.
2.  Yam and Fish Stew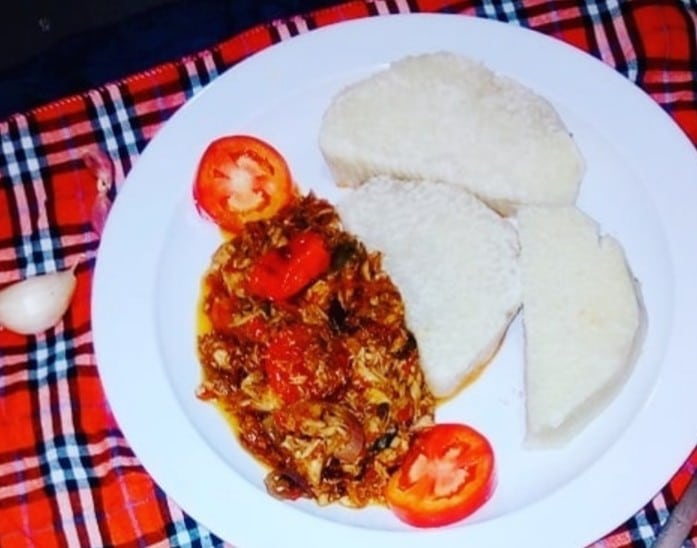 Ingredients:
Onion
Yam
Fresh fish
Pepper
Seasoning cube
Tomato
Thyme and curry
Vegetable oil
Water
Salt
METHOD
Peel the yam and cut to any shape and size of your choice
Put it in a cooking pot, add both water and salt and then boil it for a while.
Check its tenderness using a fork. Once it is soft just drain the water and your yam is ready.
Place your tomato, pepper and onion inside a blender and blend
Heat the mixture until it appears dry
Place your fish in a cooking pot and steam after adding curry, thyme, seasoning cubes, salt, and little water
Place a neat pot on your cooker, pour a little vegetable oil.
After getting hot, add the blended solution [pepper, tomato and onion] in a pot with vegetable oil
Now, let it fry a bit and stir it repeatedly so that it will not get burnt
Remove every bone from the fish, mash it and then pour inside the fried sauce.
Add a little seasoning and let it fry for a bit.
You're done cooking the fish stew and yam!
3. Ripe Plantain Pottage
Ingredients:
Salt
Ripe Plantains
Blended red bell pepper
Chopped onions
Chopped shrimps
Red scotch bonnet pepper
Shredded spinach
Crayfish pieces
Seasoning cubes
Water
Yellow pepper (optional)
Chilli powder
Palm Oil
METHOD
Peel the plantain and cut to your desired shape and size in a cooking pot.
Now put the onion, pepper, salt, seasoning cubes, as well as blended bell pepper and water and then boil it.
Pick up a fork and check if the plantain is soft.
Pour the crayfish in, shrimp and let it simmer for about five minutes [with lower heat]. Once you notice the liquid content is about drying up you can add two spoons of water.
Finally, add palm oil and then stir. Mix with the vegetables and serve it hot.
4. Dodo and Fried Eggs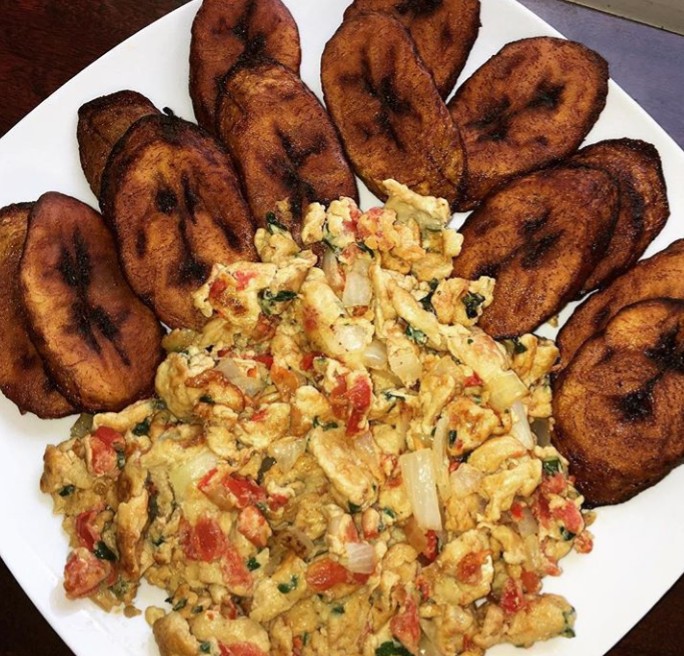 Ingredients:
Pepper and tomato
Onion
Salt and seasoning cubes
Vegetable oil
Eggs
Ripe plantain
METHOD
Peel the ripe plantain and cut it to any shape of your choice. You may also decide to season it with salt
Place your frying pan on the cooker and allow it to become hot
Pour the vegetable oil into the hot pan leave it for 3 – 5 minutes
Begin to pour the plantain into the frying pan and turn it continuously so as to prevent it from getting burnt.
Once the plantain is averagely brown remove from the oil ASAP. Repeat until you have no plantain left again
Our plantain is ready now, let's prepare the egg
Rinse your tomato, pepper, onion and slice them
Place your frying pan on the cooker
Add a spoon of cooking oil into the pan and leave for 3 – 5 minutes
Add the onion, tomato and pepper you sliced earlier
Add salt as well as seasoning cube to make it taste better
Let it fry for 2 – 4 minutes
During the wait, break the raw egg in a neat bowl and whisk
Now add the egg into the frying pan.
Let it fry for 3 – 5 minutes. Make sure you flip from side to side so as to prevent it from burning
Your dodo and fried eggs are ready!
5. Nigerian Jollof Rice
Ingredients:
Rice
Meat
Vegetable oil
Onions
Tomato paste
Spices [thyme, curry, etc]
METHOD
Rinse your meat and onions
Slice the onions in a small plate
Place your frying pan on the cooker and add vegetable oil. Leave for 2 – 3 minutes
Now pour the onions, tomato paste and the meat into the pan allow it to fry evenly
Once you are done frying it, add your desired spices
Now rinse your rice and then add to the sauce
Add a little salt and cook until ready.
Serve hot and enjoy!
Other healthy Nigerian dinner ideas:
Okro Soup and Eba
Okro soup is a healthy Nigerian soup with moderate calories and many health benefits. It is best eaten with eba and is absolutely delicious. Okro soup is definitely among the healthy Nigerian low carb dinner ideas.
Nigerian Pepper soup
Nigerian pepper soup is a hot and spicy soup, that is perfect for dinner. It is low in calories and can help you fall asleep easily.
Fruit Salad
Fruit salad is a blend of different healthy fruits as a sumptuous meal. It is not only very healthy, but also fills you up quickly and is great for your digestive system.
ALSO READ: