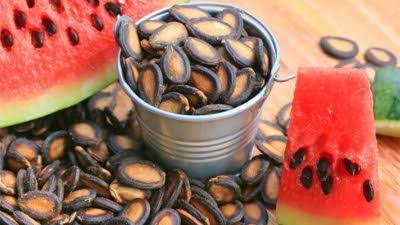 Is it healthy to eat watermelon seeds? I am sure that many of us have been asking that question since we were little. Watermelons are juicy, delicious fruits that almost everyone loves to eat; however, many people are fond of spitting out the seeds while eating the fruit.
There are quite a number of misconceptions about watermelon seeds; for example, it is often said that they do not contain any nutrients and how they are not to be eaten because they will grow in your stomach. On the contrary, Watermelon seeds are low in calories and are packed with nutrients. The truth is this: It is healthy to eat watermelon seeds. In this article, you will find out why you can eat watermelon seeds and how you can consume them.
Nutritional Content of Watermelon Seeds
First of all, watermelon seeds are low in calories. 100 grams or a handful of watermelon seeds is about 30 calories, much less than many unhealthy snacks such as a bag of potato chips. Also, watermelon seeds contain high amounts of magnesium, iron, zinc, as well as monounsaturated and polyunsaturated fatty acids. It is also rich in fibre and vitamins. [1]
Why you should eat watermelon seeds
As you can see, watermelon seeds are rich in useful nutrients and low in calories. This makes them a healthy snack that you should use to replace eating unhealthy snacks and junk. To further convince you of why eating watermelon seeds are healthy, here are the health benefits of watermelon seeds.
Health Benefits of Watermelon Seeds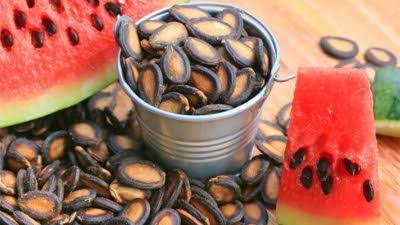 1. Contains good fat
Watermelon seeds have both monounsaturated and polyunsaturated fat, which are useful in preventing diseases like stroke, bad cholesterol levels, and other heart diseases. If you want to improve the good cholesterol in your body, then eating more watermelon seeds would be great for you. [2]
2. Good for the skin
The vitamin content of watermelon seeds helps promotes healthy skin as the oil extracted from the seeds are being used in making soaps and body creams. Applying the watermelon seed oil on your face will block your pores, thereby preventing the outbreak of acne.
3. Helps in digestion
Due to the dietary fiber present in watermelon seeds, digestion would become a lot easier. It also helps relieves constipation.
4. Rich in nutrients
As mentioned earlier, watermelon seeds contain lots of nutrients. For example, magnesium helps strengthen bone health. Zinc is also very important for immunity and digestion.
5. Low in calorie
100 gram of watermelon seeds contains about 30 calories, which is less compared to many other snacks. This is really a good choice for those looking for low-calorie snacks.
How to eat watermelon seeds
Roast the seeds: This is one of the easiest ways to consume watermelon seeds. To prepare roasted watermelon seeds at home, you need an oven, a bit of salt, and olive oil. After rinsing and drying the seeds, put in olive oil and salt, then place on a baking pan. Bake them for 10 to 15 minutes, and eat after it has cooled off. Simply crack the seeds off and snack of them.
Eat them raw: You can eat raw watermelon seeds raw, directly from the fruit. They're not toxic, and the seeds will not grow in your stomach 😁. This is even one of the best ways to eat watermelon seeds.
Sprouted watermelon seeds: Sprouted seeds simply mean seeds that have started to germinate and grow. To make sprouted watermelon seeds, you have to soak the seeds in water for some days until they start growing. After which they are dried under the sun or in an oven. Finally, you can eat them as a healthy snack or their own, or you can decide to add it to your bowl of yogurt.
Watermelon seed oil: Watermelon seed oil is sold and is readily available in many stores.
Conclusion
In summary, watermelon seeds serve different purposes. It is not only used to make food. It is also used in baking. Essential nutrients that help proper body function are also present. If you are not already adding this to your diet, I recommend you start right away. You wouldn't want to miss out on its amazing benefits.