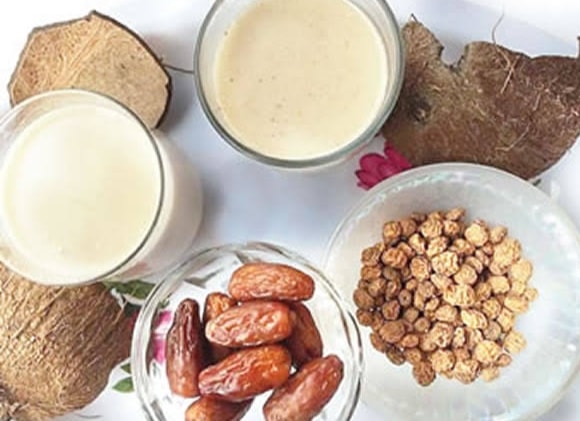 The health advantages associated with the consumption of tiger nuts, dates and coconut drink are very plenty to discuss about. It's a combo drink with a sweet taste that helps to rejuvenate body and soul.
In present day Nigeria, dates with tiger nuts and coconut juice is a wonderful combination drink often used for aphrodisiac purposes. It is basically a men and women's drink popular known as Kayan Maza Original or Kayan mata. These two names actually mean men's property and women's property. In addition, the male folks gave it another name as Maganin Maza na Magida.
According to findings, it was discovered that this popular drink is usually used as a sexual drive booster to enhance performance between a man and his wife. It is also a common treat in some countries in the Middle East, and most countries in Africa. Nevertheless, some people often referred to the drink combo as a natural lubricant for the female folks.
In Nigeria, tiger nuts are known by the Hausa people as Aya; known by the Igbos as Akis; while the Yoruba people call it Ofio.
The date fruits are referred to as Debino by the Hausa folks; known as Mkpuru Ubochi by the Igbos; while the Yoruba people call it Eso Eso.
The Coconut is called Kwakwa by the Hausas; Aku Oyibo by the Igbos; and Agbon by the Yoruba folks.
So, what are the health benefits of tiger nuts, dates and coconut drink? We will quickly examine some of them.
Health Benefits of Tiger Nuts, Date And Coconut Drink
The three-in-one combo is a very excellent drink that helps to strengthen the body's immune system. Tiger nuts have been especially said to fight against E. coli, Staphylococcus and Salmonella bacteria infections.

Tiger nuts are effective for breastfeeding women. They enhance the production of milk in the female folks.

Tiger nuts, dates and coconut drinks have high contents of calcium because if it's richness in amino acids and minerals. The minerals present in the drink assist the body to function properly and regulate it's internal environment.

This combination drink enhance sleep and is effective in treating insomnia.

It's an effective laxative. It helps to combat constipation and improve the movement of bowels. Dates are good for the digestive system.

The drink helps to keep the heart healthy, devoid of diseases while helping to develop the cardiovascular system, at the same time.

The drink is effective in lowering the level of sugar in the blood.

It improves the flow of blood in the brain, develops the muscle and sharpens your vision.

It inhibits the growth of cancerous cells in your body. Macro nutrients in the 3-in-1 drink accelerates metabolic processes and purify your digestive system.

It helps to heal erectile dysfunction. It is used as an aphrodisiac for people with low sex drives.

Date, tiger nuts and coconut drink can be drunk as a milkshake, since the coconut drink is very rich in insoluble fibre and is also ideal for weight-conscious people due to it's low carb content.
Final Thoughts
Dates, coconut and tiger nuts drink has numerous advantages and health benefits for any one taking it. The long list of health benefits listed above is enough to motivate any health conscious individual to incorporate this combo drink into their diet intake.
YOU SHOULD ALSO READ: