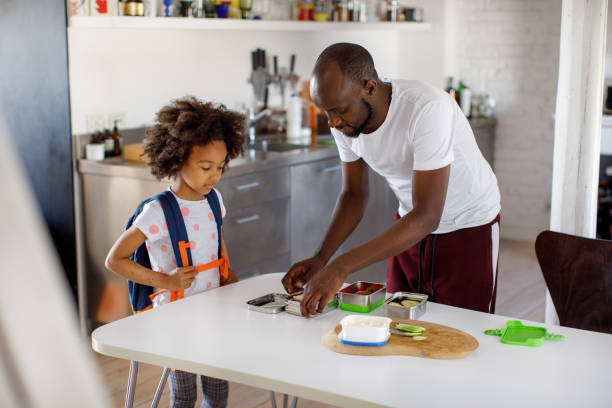 As a busy parent, you wake up early every morning to prepare your child's lunchbox for school. But sometimes, you find yourself struggling to come up with healthy and delicious lunch ideas that your child will actually enjoy.
You might worry about packing the same old boring foods every day, and wonder if your child is getting the nutrients they need to thrive at school. If this sounds familiar, then you have a solution! In this article, we will provide you with a variety of Nigerian lunch box foods for kids that are both nutritious and tasty.
Finding the right balance between nourishing and appetizing lunchbox meals for Nigerian kids can be challenging. We want our kids to enjoy eating and ensure they get the nourishment they need.
So to help parents make healthier choices for their children, here are a few fantastic ideas for healthy Nigerian lunch box foods for kids.
11 Healthy Nigerian Lunch Box Foods for Kids 
Here are 11 healthy Nigerian lunch box foods for kids
1. Oatmeal and scrambled eggs 
One favorite healthy Nigerian lunch box food for kids is oatmeal with scrambled eggs and vegetables. This classic lunch dish will give kids a hearty meal with plenty of energy and vitamins for their day. Kids will enjoy the flavor and texture of this meal, and it's an easy way to get some good nutrition.
2. Jollof rice 
This list will only be complete with jollof rice. Jollof rice is another tasty meal that Nigerian parents can include in their kids' lunch boxes. 
Jollof rice is made from tomato-based rice mixed with herbs and spices for added flavor. Adding a side of fried plantain provides a yummy combination that is sure to please. 
Also, the kids can take it with a banana, avocado pea, or pawpaw. 
3. Ofada rice with dodo
Ofada rice is a healthy choice, and paired with fried plantains, it can make for a nutritious meal for kids. If you want to switch things up, add some fried fish or dodo to give it an extra flavor boost
4. Nigerian pancakes 
Nigerian pancakes are another simple and fun lunch option. All you need to do is add a mixture of plantain and egg and then fry them. The finished pancakes make an ideal snack or could be part of a meal served with chicken, egg, and tomato. 
5. Plantain pottage
Plantain pottage is a great way to ensure your kids get the protein and complex carbs they need while being enjoyable and tasty. If you want to give it an extra kick, add bell peppers or fresh spinach for a punch of flavor and nutrition. 
6. Moi moi & fried plantains
This protein-rich combination of beans from moi moi and fried plantains will leave your kids feeling full and satisfied throughout the day. It's also full of essential vitamins and minerals that can give their growing bodies the energy boost they need.
7. Yam porridge
Yam Porridge is an excellent Nigerian lunch box choice because it's tasty and nutritious. Also, it is an excellent source of carbohydrates and rich in Vitamin C, magnesium, and phosphorus.
You can also mix in fruits, such as bananas and berries, to add additional nutritional value to the dish.
8. Vegetable sauce with noodles
For an extra burst of vitamins and minerals, whip up some Nigerian-style vegetable sauce and serve it over noodles or spaghetti. You can mix and match vegetables and spices according to your taste.
9. Oats and banana smoothie
If your child is an avid smoothie fan, you can whip up a nutritious Nigerian-style smoothie with oats and bananas. You can also add Greek yogurt, berries, or honey to increase the drink's nutritional value.
10. Stewed bean and plantain 
Another delicious Nigerian combination of stewed beans and plantains makes a filling, flavorful meal that will make your kids the envy of their lunchroom. The health benefits of this dish are a bonus.
11. Rice and stew
Lastly, rice and stew can be a simple and nutritious meal for kids. Rice is a staple in many Nigerian meals, and stew is an easy way to incorporate some vegetables and proteins into their diet. All it takes is a bit of ground beef, chicken, or other preferred protein, some tomato-based stew, and some vegetables. 
Conclusion
Nigerian cuisine provides various options to fill the lunch box and fuel your children with energy throughout the school day. By adding some of these delicious lunch ideas to their diets, Nigerian parents can help ensure their kids receive the nutrition they need.
YOU SHOULD ALSO READ: