As a mom, it is your duty to teach, protect and nourish your children. Honestly, it is not an easy task, but it is a fulfilling one.
Many mothers have to take care of their home, their kids, probably their career and deal with various challenging tasks daily. Being a mother is undoubtedly the world's most important job. It is even more difficult to be a mother in Nigeria. Nigerian moms don't find it easy at all; they have to care for their children while managing their homes, careers or business in a tough country for women.
However, the job of being a mother can often times leave you so weary that you might neglect taking care of yourself.
Of all your important obligations, living a fit, healthy life is crucial to all moms. The truth is everyone wants to be fit, but being fit is not an easy task, not to talk of when you are a busy mom.
If you're a busy Nigerian mom and you are looking for tips to living that fit family life, check out these Fitness Tips For Busy Nigerian Moms!
7 Fitness Tips for Busy Nigerian Moms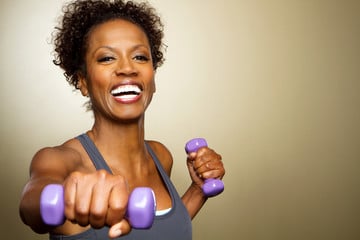 1. Find motivation
The first step to becoming a fit Nigerian mom is to find your motivation. You can't hope to achieve fitness without motivation.
You need motivation to overcome busy schedules, demanding task, daunting obligations and still carve out time for your fitness. How can you find motivation? Establish the reason why you want to get and stay fit. Do you want to feel better, and live a healthier lifestyle?
One good motivation for keeping fit as a mom should be for your family. Maintaining good physical fitness can keep you healthy, help you avoid many illnesses and keep you looking good. Your family needs you to be all that.
This should be reason enough for you to want to get fit.
2. Create time and Create a routine
One major challenge that many Nigerian moms face is time. There's hardly enough time for yourself, not to talk of exercising.
Many busy moms struggle with numerous tasks daily, and it is difficult to find the time to exercise.
The simple truth is that you will hardly ever find the time to exercise; what you need to do is create time.
How can you create time to exercise as a busy mom? First, you have to your prioritize your time.
The time you spend on watching telenovelas, zee world and TV shows could be used to exercise. Write a daily plan, and include exercising. Finish all the important tasks of the day on time, and avoid procrastinating.
Next, you have to create a routine. All mothers know the importance of having a good routine, and if you take this same approach and apply it toward your fitness, you'll get similar results.
Making exercise a part of your daily routine will make it a habit, and easier to do in the future.
3. Take advantage of early hours
Taking advantage of the early hours of the morning to exercise is another nice fitness tip that can help busy moms.
Early morning workouts are usually great for many busy moms because it gives you the opportunity to exercise without any distraction.
I recommend that you use those hours to exercise, especially when might have a busy day ahead.
Exercising early in the morning energizes you for the day and boosts your mental well-being.
But before you exercise in the morning make sure you have had enough sleep.
4. Exercise at home
Between helping your kids with their homework, changing diapers, making dinner, and juggling your career, finding time to go to the gym may not always be an option.
You don't need to have a gym membership or go to a workout, and you can exercise in your home.
You can choose to create a customized workout are in your house. If you do so, you can workout as late or early as you want, or even in between tasks and chores.
5. Try simple exercises
Most Nigerian moms usually complain that they don't know how to exercise.
You don't need to try complicated workouts routines to get fit, just begin with the simple ones.
Simple exercises like skipping (jumping rope), dancing and jogging can go a long way.
6. Exercise with your children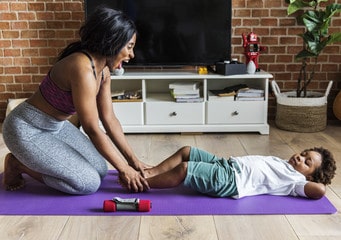 Another great way busy Nigerian moms can stay fit is by exercising with their children.
If you have kids, work out with them. That way, you get to maintain your fitness and spend quality time with your children.
You can play a sport with your children, or invite them to exercise with you.
7. Workout with a fitness partner
You can definitely achieve more if you workout with someone.
A fitness partner is someone who can join you to exercise and shares your goal.
A fitness partner can support you and even motivate you.
Being a busy mom, your fitness partner could be a close friend, workmate or husband. It will be fun and much more enjoyable if you are working out with someone.
Conclusion:
Although being a busy Nigerian mom is challenging, you should take care of yourself and make your fitness a priority.
These helpful fitness tips for busy Naija moms will surely help you achieve success.
Please share this to all your friends, and don't forget to leave a comment.
Also, sign up below to become our VIP reader.