The Abacha food, which is popular regarded as African Salad in English, is a very aromatic delicacy and quite nutritious to the enzymes of the stomach.
This native dish is quite peculiar to Igbos, which are predominantly found in the South East part of Nigeria.
Furthermore, the food is said to be originated from the South Easterners and "Abacha" is one of the Igbo's native words.
Taking a look at other names for the African salad dish, it is also called Abacha Ncha, and Abacha and Ugba, by the Igbo people of Nigeria.
It is a favourite choice for most Igbo traditional outings, and is often served to guests. Abacha can be relished as an appetizer, dessert, snack, or as a normal meal, any day, any time. Without any iota of doubt, it is truly one healthy and nutritious meal.
Does Abacha have any health benefit attached to it? Yes, there are many of them outlined in the latter parts of this article. Let's take a short insight into the nutritional composition of Abacha (African Salad).
Nutritional Value Of Abacha
Abacha is renowned as a very special dish to the Igbos. It is prepared with dried shredded cassava, utazi leaves, pepper, potash, red oil, ugba (ukpaka), crayfish and diced garden eggs.
These ingredients used in preparing abacha makes up it rich nutritional value.
Abacha has a rich content of minerals and nutrients which includes: Calcium, Potassium, Magnesium, Sodium, Vitamin C, Zinc, Iron, Vitamin A and Phosphorus. Cassava is equally a great source of thiamine, riboflavin, and niacin.
It also has additional nutritional values of Protein and Crude Fibre, due to the presence of other ingredients often added to the food.
There is a medical study that extensively discussed the nutritional value of abacha (African salad).
What Are The Health Benefits Of Abacha?
The health benefits of African salad are numerous and varies, depending on the ingredients used to prepare this delicious meal. However, abacha food health benefits can be summarized into the following below:
It is a great gluten-free Nigerian food, which makes it deal for people allergic to gluten consumption.

The leaves of garden eggs used in the preparation of the salad are pretty rich in ascorbic acid, calcium and antioxidants. The Utazi leaf is good for improving digestive health.

Helps in the formation of strong bones and also prevents bone damage.

Enhances the circulation and transport of blood all over the body vessels.

Improves the moment of bowels and minimizes constipation.

Helps to combat illnesses such as heart diseases, cancer, blindness, while also improving the eyesight.

Abacha is usually eaten with anima protein such as fish, chicken or kpomo, which are good for the body.

Stops the growth of cancerous cells in the body.

Helps to reduce the risk of obesity.

Abacha is rich in potassium. 1 cup of cassava contains 558 mg of potassium, which makes it good for the heart and cells. There are other Nigerian foods rich in potassium.
Has a rich iron content and helps to boost the production of blood in the body.
Abacha prepared with ehu seeds have extra benefits, because ehu seeds have been suggested to fight arthritis and rheumatism.

Has a very high fibre content.

Abacha is very rich in Vitamin B-complex.

The African salad meal also helps to solidify the body's immune system to fight against external infections.
Is Abacha An Ideal Meal For Weight Loss?
Perhaps some folks might be anxious whether Abacha can be eaten as a remedy to over weight. The answer is a straight NO. It has a high amount of fibre that readily fills up the stomach. Also, a serving of Abacha is reported to have about 400 calories.
Definitely, an excess intake of calories won't help you, in any way, to lose weight. So, you have to be cautious with your consumption of the African Salad food, if you are mindful of weight loss. However, you can check out some other Nigerian foods that are great for weight loss.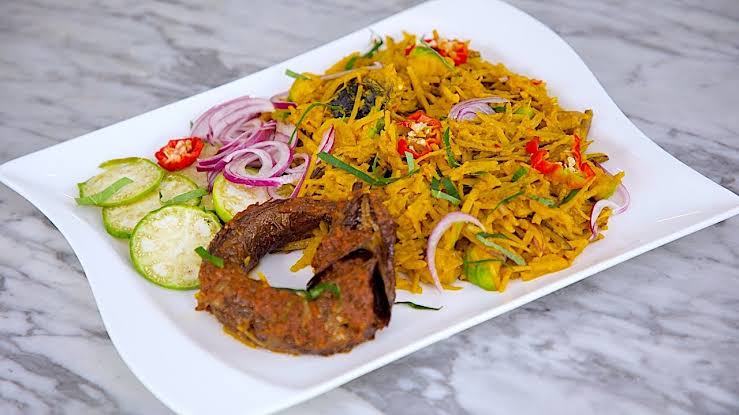 Final Thoughts
There are several Abacha food health benefits to get when you eat it at proportionate intervals. Therefore, it's not a dish to shy away from, if you desire some of the health benefits attached to the food.
ALSO READ: