If you have come ever across images of a white pill on the internet with the inscription "L612" and was what the pill was or what it does, just know you are not the only one puzzled as many people also have come across the same image or a similar one with the same inscription, without anything to aid their guess. This article would cover everything concerning the pill, including the risks and side effects, if any.
What are L612 Pills?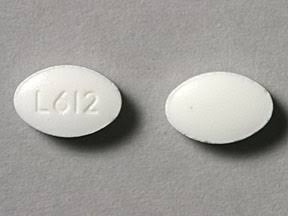 The pill with the "L612" inscription has been identified as Loratadine, a kind of antihistamine. Antihistamine is a class of drugs that are used to treat symptoms of allergies. Allergies cause the body to release chemicals known as histamines, which manifest as common symptoms of allergies like runny nose and eyes, sneezing, and nasal swelling. [1]
Antihistamines work by reducing these antihistamines, thereby treating the symptoms of the allergy and the allergy itself.
Loratadine or, L612 pills, is therefore used to treat various symptoms of allergies, including runny nose and eyes, itchy eyes, nasal swelling, sneezing, and a lot more. L612 comes in pills of 10mg, but they are administered differently based on the age group and the condition of the person.
L612 pills are known by the brand name of Claritin, and they are made by the Perrigo Company, an Irish-registered company with its physical headquarters in the United States. L612 pills appear in oval forms, with the inscription L612 boldly carved on it. [2]
What is L612 Used To Treat?
L612 pills are used in the treatment of some conditions like Allergic Rhinitis, Urticaria, Allergic Urticaria, Physical Urticaria. It is generally used to treat symptoms associated with hay fever or, in some cases, respiratory allergies.
Who can use L612 Pills?
Although L612 pills are administered by a doctor, they can also be bought over-the-counter or in a pharmacy without a prescription. L612 pills can be used by both children and adults. But it is carefully administered in varying dosages, based on age. Adults and children, 6 years and above, are expected to take 1 10mg pill per day. Children below 6 years and infants are expected to take half a pill or 5mg dosage per day. People with more serious conditions, such as kidney problems, should seek a doctor's prescription before taking the drug. It also has a pregnancy category B rating, meaning the drug is safe for pregnant women. [3]
Risks
There are no known risks associated with takin L612 pills. Like we noted above, it is a pregnancy category b drug, meaning it is safe for both pregnant and breastfeeding mothers, without any risk of the drug getting to the baby. However, L612 drugs have been found to interact with other drugs, including ibuprofen, erythromycin antibiotics, phentermine,  amiodarone, cimetidine and prednisone. Also, antiretroviral drugs should not be taken with L612. That is why it is best to consult with a doctor before taking L612 pills if you are already taking other medications. But the interactions are grouped as moderate and minor. [4] [5]
Does L612 pills make you sleepy?
Loratadine is categorized as a non-drowsy antihistamine, so it's not supposed to make you sleepy. However, some people have said that it makes them feel slightly sleepy. Children may also have a headache, feel tired or nervous after taking loratadine pills. It's advisable not to drink alcohol while you're on loratadine medication, as it can make you feel sleepy.
Side Effects of L612 Pills
The side effects connected with L612 pills are not extraordinary and are almost like the ones connected with other drugs, which could be mild or severe, depending on the age and condition.
Children below the age of 5 years receiving the drug may experience tooth disorder, diarrhea, earache, and rash.
Children between 6 and 12 may experience nervousness, abdominal pain, dysphonia, and fatigue.
Children above 12 years and adults may experience headache, fatigue, and dry mouth.
Some other side effects connected with the drug include leg cramps, sour mouth, dermatitis, nose bleed, itching, anxiety, swellings, vaginitis, and so on.
There are also side effects that come with overdosing on the drug, including drowsiness, headache, unusual body movements, fast heartbeat, and so on.
That is why it is good to follow a doctor's prescription or to stick with the dosage meant for your age.
What is the price of Loratadine in Nigeria?
Loratidine or L612 pills are readily available in all pharmaceutical stores across Nigeria. The price of Loratadine in Nigeria ranges from ₦800 to ₦1200.
Should You Take L612 Pills?
L612 pills are used to treat allergies and allergic symptoms and are considered to be safe, so long they are taken in the right dosage. They are not prohibited or controlled and are available in many pharmacies and online stores. However, it is advisable to take the drugs after talking to a doctor.
ALSO FIND OUT…