Sometimes it might be a challenge to keep up with maintaining a clean house and our busy schedule. Cleanliness is really important because it not only leaves us refreshed but helps us stay healthy and organized. It is true that cleaning can be stressful. However, there are some simple ways to keep your house clean. Here are some simple tips to help keep your home clean regularly.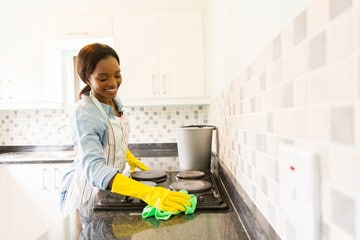 1. Make your bed immediately you get up
It may sound less important, but making your bed properly makes the room look tidier and less organized. Imagine coming home from a long day at work only to meet your sheets lying around. It could make your day look even more stressful. Teach your kids to make their beds too.
2. Keep things where they belong
This is pretty easy. Before leaving your room, try to do a quick scan to make sure your stuff are not lying around or your clothes falling out of the closet. Simply place things in their order.
3. Involve other family members
This applies if you are not leaving alone. If you are a parent, rather than trying to carry out all the chores alone, why not involve other family members. Teach your kids to do simple chores according to their ages. This lightens your workload and makes the house look less messy.
4. Try to do the dishes immediately
Sometimes after eating, we get too lazy to just clear the dishes, but doing them immediately could reduce the bulkiness and save time. You could also just keep the dirty dishes right in the dishwasher.
You should also clean up while cooking. Learn to clean up before you start and while you are cooking. Once you are done preparing your meal, quickly rinse the cooking utensils before eating. It will make things much easier to clean up after you're finished eating.
5. Use vacuum cleaner
This is also an easy method of keeping the home clean. You just need to power them up and let them do the work. They could go areas around the house you want them to go using a remote control.
6. Spend a few minutes cleaning up at night
It may seem so hard coupled with your busy schedule, but trust me, it's really worth the effort. Since the kids are already asleep, before going to bed, you could spend a little time tidying up and maybe going around picking up the dirty laundry and organizing them for wash day putting their toys in order. This gives the home a refreshing look in the morning.
7. Keep cleaning supplies within easy reach
It would make cleaning easier if you kept the materials needed in a place where you can easily get to them. At least, you wouldn't have to be so worried as to where to find them and how to get to them. You could easily just pick them up and do the minor chores.
8. Don't let your laundry get too bulky
Rather than wait till all your clothes get dirty, you could do a regular laundry to reduce the stress. For example you can pick two or three days in a week and dedicate it to doing your laundry.
9. Create a cleaning schedule
In order to keep things more organized, you could create a daily or weekly schedule for cleaning, depending on the time you have. This helps to make your cleaning easier as you already know where to clean and what to clean. Most Nigerians prefer to do a thorough clean up of their homes during the last Saturday of the month, which is the sanitation day.
10. Maintain adequate ventilation
Good ventilation and breathing quality air is important for a clean home and good health. A clean home has to have good cross ventilation, it is very vital to your respiratory health and comfort. Having a good home ventilation helps your home get rid itself of smoke, cooking odours, and indoor pollutants. It will also help eliminate a build up of pollutants, bacteria and moisture. You can maintain a good home ventilation by opening your windows often to get natural outdoor air. You should also put on the fan when the weather is hot.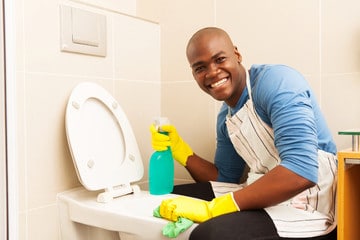 Conclusion
Although cleaning may seem stressful and time-consuming, it could actually be a fun time for you and your folks doing them together and helping each other out. A good home hygiene will reduce the risk of infectious diseases at home.  There are other interesting ways on how to maintain a clean home, but I hope these few tips really helped you.
YOU SHOULD ALSO READ: