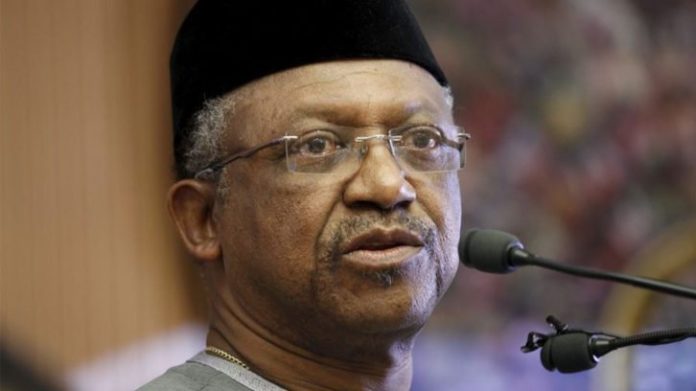 Dr. Osagie Enahire, a Medical Doctor-turned politician, is one of the new ministers inaugurated by President Muhammadu Buhari on Wednesday, 21st August, 2019. He would be running the health ministry together alongside the newly-appointed Minister of State for Health, Senator Dr. Adeleke Olorunnimbe Mamora.
Here are some other things you need to know about him:
QUICK PROFILE OF DR. OSAGIE EHANIRE
Age: 72 years (4th November, 1946)
State of Origin: Oredo Edo State, Nigeria
Religion: Christianity
Institutions attended: Government College Ibadan | Ludwig Maximilian University of Munich in Germany | Medical Board of North-Rhine Westphalia in Duesseldorf, Germany | et. al
Political party: All Progressives Congress [APC]
Most-previous political appointment: Minister of State for Health (2015 – 2019); Preceded by Isaac Adewole, Succeeded by Olorunimbe Mamora. [1]
DR. OSAGIE EHANIRE'S BIOGRAPHY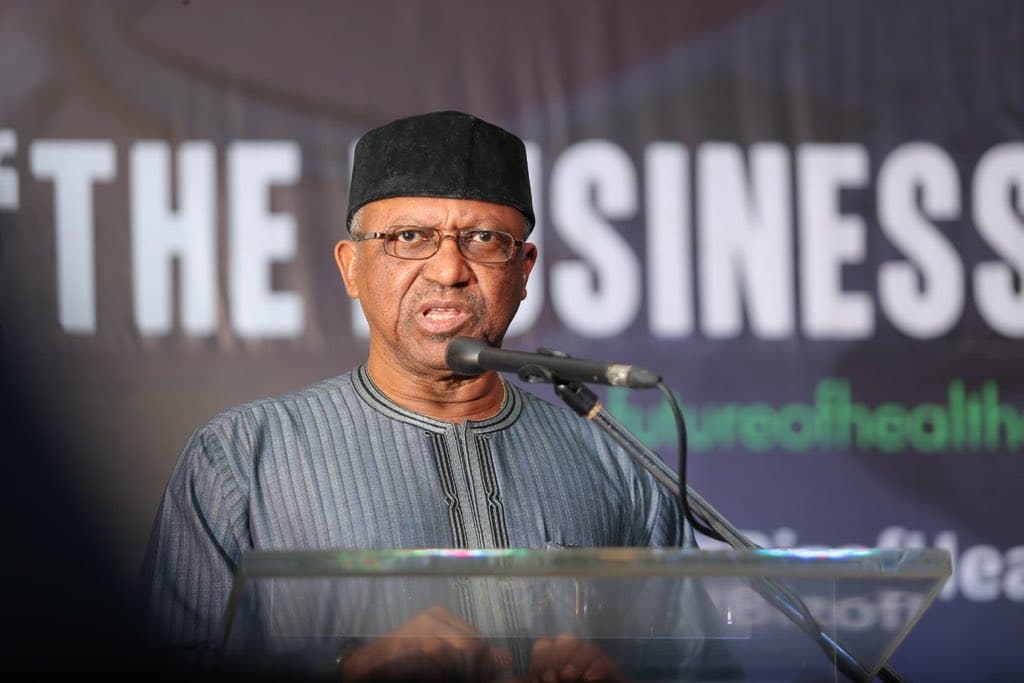 Dr. Osagie Emmanuel Ehanire was born on 4th November, 1946 in Oredo Local Government Area of Edo State.
He started his secondary education in Oyo state, where he attended Government College Ibadan and graduated with excellent grades at his Higher School Certificate examination.
He further attended the Ludwig Maximilian University of Munich in Germany to study Medicine and got certified as a physician.
Fast forward to 1976, Dr. Osagie Ehanire bagged his post-graduate diploma in Anesthesiology, and certificate in General Surgery as well as Orthopaedic Trauma Surgery at the Medical Board of North-Rhine Westphalia in Duesseldorf, Germany.
Again, Osagie Ehanire became a Fellow of West African College of Surgeons in 1984. [2]
DR. OSAGIE EHANIRE'S EDUCATIONAL CAREER
Dr. Osagie has held various positions in many establishments; both at home and abroad.
To start with, he worked as Resident Anesthesiologist, Resident Vascular Surgeon, and Resident-General Surgeon in Thoracic Surgery in multiple hospitals in Germany.
He also worked with BG Accident Hospital in Duisburg, Germany where he served as Clinical Instructor and Fracture Internal Fixator.
In 1982, he returned to Nigeria and joined the University of Benin Teaching Hospital to work as Senior Registrar in the Department of Surgery (Orthopedic Surgery). He held the position for two years; 1982 – 1984.
He also became a fellow of the West African College of Surgeons (FWACS) in the same year.
Between 1985 and 1990, Osagie Emmanuel Ehanire worked as a Divisional Consultant Surgeon at Shell Petroleum Development Company Hospital (SPDC).
He also spent several years in the medical review board of Bendel and Edo State Hospital Management Board, and he is also a Trustee of TY Danjuma Foundation till date. [3]
Apart from being a medical doctor, Osagie Emmanuel Ehanire is also a good writer. He co-authored the orthopedic book "The severely injured limb" modified By John Ackroyd.
Dr. Osagie Ehanire is also married with children.
HOW IT ALL STARTED
Dr. Ehanire is not a 'newbie' in the Nigerian political and health sector. He has been around for a couple of years.
He was appointed the leader of CPC in Edo State and was also made a member of the Buhari Campaign Organisation after the inception of All Progressive Congress [APC].
In a bid to support President Buhari's vision and passion, he did everything in his capacity to support him, and part of it was a press release through which he informed Nigerians to disregard the rumor that the then Presidential aspirant, General Muhammad Buhari had nothing in mind but to Islamize Nigeria if given a chance to rule the nation in the March 2015 general elections.
Part of his argument then was that Buhari is very open-minded, devout and that he wouldn't hinder other religious followers from exercising their faith.
As part of ways of compensating him for the job well done, Dr. Osagie Ehanire was announced as one of the Ministerial nominees to work with the Buhari-led cabinet in October 2015 and was later appointed the Minister of State for Health till early 2019.
DR. EHANIRE'S ACHIEVEMENTS AS THE IMMEDIATE PAST MINISTER OF STATE FOR HEALTH
Upon resuming office as the Minister of State for Health, he applied his knowledge, experience, and prowess to the sector and gave it a newer, better shape. He performed excellently and worked diligently with the then health minister,Professor Isaac Adewole to turn things around in the Nigerian health sector, and some of his prominent achievements then include – the revitalization of more than 10, 000 Primary Health facilities across the 774 Local Government Council in the nation. The revitalization process was felt largely by rural dwellers across Nigeria in the sense that they were able to gain access after several years of yearning to free antenatal care for pregnant women, free health care for newborn babies, as well as antiretroviral drugs for people with HIV and AIDs.
Another noteworthy achievement made by Dr. Osagie Ehanire during his stay as the Minister of State for Health include the lowering of malaria prevalence across the nation by 42/27%, the launching of Tobacco act campaign, promotion of the usual immunization program to lower the risk of polio in Nigeria, introduction of health facilities registry where people can get up-to-the-minute information about the entire health facilities in all the 36 states of the federation through the internet, to mention but a few. He also partnered with prominent organizations such as the World Health Organization (WHO) and the likes in order to ensure that every Nigerian gets access to qualitative health.
THE NEW NIGERIAN HEALTH MINISTER AND THE FUTURE OF THE HEALTH SECTOR
On 21st August, 2019, Dr. Osagie Ehanire having made it to the Buhari's 2019 ministerial nominee list was declared the new minister of health in Nigeria. He would be working together with the new Nigerian Minister of State for Health, Adeleke Olorunnimbe Mamora to improve the sector further.
During his inaugural speech on Wednesday, he promised that he and Mamora would synergize and strategize together in order to improve Universal Health Coverage (UHC) and also improve the quality of healthcare services in various hospitals across the nation. He also gave an assurance that his administration would lay emphasis on health security as well as health care revitalization, all of which would make the sector great once again.
That being said, with his wealth of experience and myriads of achievements, do you think Dr. Osagie Ehanire wouldmove the Nigerian healthcare sector forward?
Let us know in the comments below.